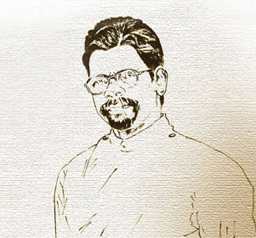 Rev. Fr. D'Cruz Kandamangalam
As a part of the ethical business policy, Eco Trails Kerala help & promote sincere Charitable activities in the in the most needy sectors of the society. Our guests are given opportunities to visit & experience those charitable activities which are conduct in a quiet & honest way.
One of the charity projects which we identified at Kumarakom is the efforts of Rev. Fr. D'Cruz Kandamangalam. Fr. D'Cruiz is the Vicar of one of the churches under C.M.S (Church Missionary Society of India), which was founded by the British missionaries. The congregation consist of 20 families and all of them are indigenous people from the very poor sector of the society. Fr. D'Cruz has been doing his church services as well as self supported Charitable activities to help the aged & old homeless people for the past 30 years. The small allowance from the diocese is not sufficient even to support his own family of wife & 3 children. However, he has a great vision to provide love & care to the homeless aged people.
He has set up a small Old Age home attached to his own extremely modest house set in 7 cents of land in Kumarakom. The building is only partially finished as yet. And also has registered his charity activities under the trust name 'Pride India Charitable Trust'. He has undertaken an immense responsibility to look after the aged people who are being rejected or neglected from their families. He provides them with love, care, food, clothing, medical care etc. All of his humanitarian activities are supported by his wife & children. There is NO funding from any agencies to support his humanitarian activities, except voluntary contributions from well wishers & friends. Even while he does his ministry, he experience severe lack of facilities,infrastructure, building &funding.
So far he had taken care of 11 aged people. Eight of them have died & buried with religious rites. At present he has 2 aged people & a handicapped person to take care of. His ambition is to complete a well equipped 10 bedded old age home adjoining to his house.
This letter is not a plea to give any donations to Old Age Home run by Fr. D'Cruiz, as he does not want any publicized help. However, we sincerely believe that, if Fr. D'Cruz is provided with more help & support from like minded people, he can expand his mission of Love more effectively.
Contact  Fr. D'Cruz  . e mail: fr.dcruz.kandamangalam@gmail.com